Here it is! (PDF Download)
Audio Version! (MP3 Download Coming Soon!)
YouTube Version (Coming Soon!)
Happy New Comic Book Day! Get our FREE** and brand new issue of Transformers: REANIMATED!
Issue 29 is our Christmas issue. In this merry month of December, Transformers: REANIMATED takes you to a suburban home in Colorado where a simple family gift exchange is more than meets the eye.
Mrs. Miles wants nothing more than a simple family Christmas. Mr. Miles, a military general, frets over having gotten his son the perfect gift. Then there is Ellis Miles. The only child of the family who also happens to be hearing impaired and aphonic. Ellis, like any kid, is bubbling over with excitement to open his gifts.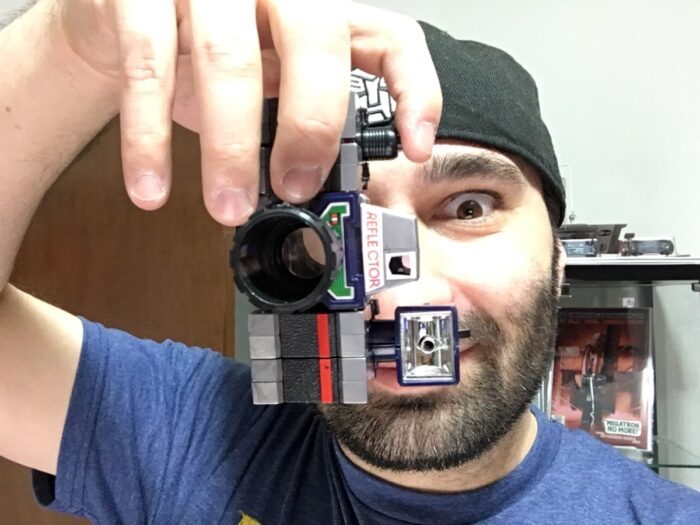 But the Decepticons have other plans for the Miles family Christmas, with a well-placed gift of their own. What kid could resist a brand new shiny camera?
Will Ellis be safe alone with his new present or do Viewfinder, Spyglass and Spectro have bigger plans in mind? Find out in this heartfelt Holiday issue.
This month's holiday cover was artfully rendered by the amazing team of Simon Williams and Jason Cardy.
Written by Greig Tansley from the Unfunny Nerd Tangent podcast and Youseph (Yoshi) Tanha from the YoshiCast, this G1 adventure follows in the Transformers: ReAnimated tradition of bridging the gap between the cartoon's second season and the 1986 Movie that defined the childhood of millions, worldwide.
So, if you *did* you like issue 29: Christmas With Reflector, then please consider contacting SKYBOUND Entertainment (Via E-mail or Twitter) and let them know you would have liked to see Transformers: REANIMATED as an ongoing comic book series written by Yoshi and Greig.
'Till All Are One!