Here it is! (514-kb PDF Download)
Audio Version! (37-mb MP3 Download)
This is issue 4 of our rejected Transformers: REANIMATED comic series. We are releasing it here as fan fiction.
Words were written by Greig Tansley from the Unfunny Nerd Tangent Podcast and me (Yoshi), from the YoshiCast and TransMissions Podcast.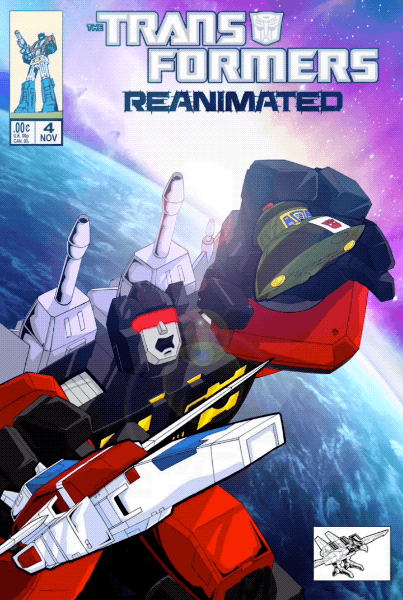 Back again to do our cover for issue 4 is Damon Batt. We are planning to release an audio interview this month with Damon to talk about his art and work on REANIMATED.
This is the first time Greig and I have released a multi-issue storyline. A storyline that Greig fought me to have made due to my personal bias regarding how comic book publishers handle multi-issue story arcs.
It seems these days that a lot of comics are written for the trade paperback release. Rather than making the consumer feel like they got their money's worth on any single issue, comic book fans are increasingly having to buy 4, 5, 6 plus issues to get any kind of story out of their comic books. And when comics run around four dollars an issue, that gets to be excessively expensive for a fan. Especially one who wants to try out a new series to see if it is worth the investment to keep reading.
After Greig explained to me the storyline he was coming up with and why he felt it was best suited for multiple issues we had several long talks to ease me into the idea as well as meet some requirements I had to be okay with this whole idea.
First and the biggest was, that I wanted anyone who read issue 3 (part 1) or issue 4 (part 2) to feel like they had a solid story in their hands. I wanted the reader to feel like after reading part 1 or part 2 they felt satisfied; that after reading part 1 they didn't feel cheated and had to read part 2 to feel complete. I also wanted anyone who only read part 2 to feel like this was an exciting series and could be a jumping on point to read future issues without feeling obligated to read previous ones.
Secondly, I did not want this to be a 4, 5, or 6 plus issue story arc. As Greig reminded me, there were more than a few multi part episodes of the television series, and this is another homage to that with a solid 2 issue story arc – one I think works really well.
I truly feel these goals I had for a multi-issue story have been met, and I look forward to reading all your thoughts on this 2 parter. If we have done our job right, then you will really enjoy this issue.
With each issue of Transformers: REANIMATED we are planting the seeds of future stories. Some are obvious and others are obscure. But they are there and Greig and I have been thinking them out and planning their conclusions since the beginning. We really hope you enjoy the ride!
Till All Are One,
Yoshi & Greig