Here it is! (565-kb PDF Download)
Audio Version! (52-MB MP3 Download)
YouTube Version!
This is issue 3 of our rejected Transformers: REANIMATED comic series. We are releasing it here as fan fiction.
Attack of the 4000-foot Frenzy, Part 1 is our first of a 2 part story arc. We approached this 2 part story with the goal that if the reader only pick up one of these two issues they would feel like they got their money's worth. I hope you will let us know if we reach our goal with part 1 here.
Returning to do our cover for issue 3 is Damon Batt. I cannot wait to write about Damon's work on this cover in a future post. He really took our rough idea and punched it up to eleven.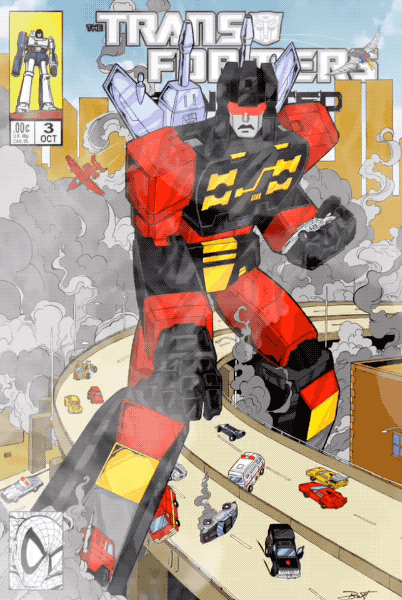 Words written by Greig Tansley from the Unfunny Nerd Tangent Podcast and me (Yoshi), from the YoshiCast and TransMissions Podcast.
Issue 3 continues to bridge the gap between the end of the seminal second season and the 1986 animated movie.
Part 2 of Attack of the 4000-foot Frenzy is scheduled for Wednesday, November, 6th. Between now and then we will be making posts about Damon Batt's artwork. We will also be recording and posting the audio version of Transformers: REANIMATED issue 3: Attack of the 4000-foot Frenzy, Part 1 in the coming days.
Finally, did you like our second issue: Autobots Under Arrest? Then please consider contacting IDW Publishing (Via E-mail or Twitter) and letting them know you would like to see Transformers: REANIMATED as an IDW ongoing comic book written by Yoshi and Greig Tansley.
Thank you all for checking out our series and all the feedback we have gotten already. We see that there is a huge need for original G1 content and Greig and I are happy to help fill that need in the form of this fan fiction comic.
Till All Are One,
Yoshi