Here it is! (PDF Download)
Audio Version! (MP3 Download Coming Soon!)
YouTube Version (Coming Soon!)
Hello, November! Oh! And it's New Comic Book day! Get our FREE and new issue of Transformers: REANIMATED!
Issue 40 combines the thrill of the slopes with the threat of the Insecticons in this latest Transformers adventure.
After winning a local radio contest Spike, Carly, Mirage and Tracks head to Aspen, Colorado for an all-expenses-paid vacation. But the Insecticons have their own plans for this winter wonderland community.
Will Shrapnel, Bombshell and Kickback succeed in implanting Cerebro-shells in every living person in the entire community of Aspen? Or will the Autobots, with Spike, Carly, Astoria and the ever-present Powerglide be able to prevent locals from being brainwashed?
Find out what happens in this brand new G1 story… Adventure in Aspen
Here at ReAnimated, we love our homages, but this month's spectacular cover was an original idea, brought to life by the wonderful Jim Stafford!
Through his years of training, talent, and a tireless drive for perfection, Jim was able to take the ideas Greig and I wrote out and created a cover so beautiful but conveys what the reader will find within this issue's digital pages.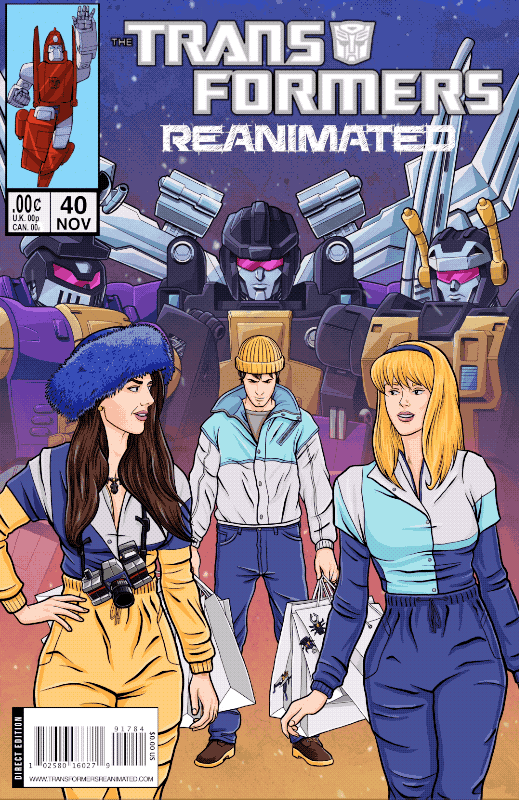 Written by Greig Tansley from the Unfunny Nerd Tangent podcast and Youseph (Yoshi) Tanha from the YoshiCast, this G1 adventure follows in the Transformers: ReAnimated tradition of bridging the gap between the cartoon's second season and the 1986 Movie that defined the childhood of millions, worldwide.
So, if you *did* like issue 40: Adventure In Aspen, then please consider contacting SKYBOUND Entertainment (Via E-mail or Twitter) and let them know you would have liked to see Transformers: REANIMATED as an ongoing comic book series written by Yoshi and Greig.
'Till All Are One!