Damon Batt is the artist behind the cover for issue 2: Autobots Under Arrest. Shortly after the release of issue 1, Damon reached out to us and made it known that he wanted to be involved in our comic book in any way possible. Greig and I needed an artist who could work fast and we could afford. Damon seemed to be that guy and I think the results absolutely show that.
Working with Damon has been a pure joy. Damon is one of those artists who goes out of his way to let you know how things are coming step by step. As a result, you really do get to see how his artistic mind works. How he is able to take words and turn them into a visual for people to enjoy.
The main story behind issue 2: Autobots Under Arrest, involves the Autobots going to trial and having to defend themselves in the U.S. legal system. Both Greig and I wanted to be able to express that through a cover image.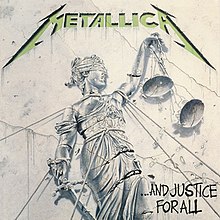 It was Greig who came up with the idea for the cover of issue 2. He felt strongly that we should homaging the Metallica album cover for …And Justice for All. The album cover e depicts Lady Justice bound in ropes and being pulled apart. Greig's idea was to replace Lady Justice with Optimus Prime.
For us, the finished cover says a lot. It encompasses the struggles that the Autobots have trying to coexist with humans on Earth. It also says a lot about the issue for which it was designed. Are the Autobots being treated fairly now that humans have acknowledged their existence? Will they be treated and judged as living beings with consciousness and rights?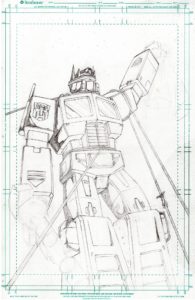 With Greig and I in agreement over the cover concept, we sent our notes and Metallica album art over to Damon to see what he thought. Damon jumped all over this task and started sending us his sketches and progress right away.
Damon, who also colored the cover, sent us 8 progress pics of the cover. The 9th and final image was the completed cover that everyone got with their download of issue Transformers: REANIMATED issue 2.
As someone who really enjoys comic book art, it was so amazing to me to see all the work and steps that Damon went through to help us get to our vision for the cover of issue 2. It shows in Damon's art and communication with us that he really cares about this comic and wants to see it succeed.
You too can help us by contacting IDW Publishing (Via E-mail or Twitter) and letting them know you would like to see Transformers: REANIMATED as an IDW ongoing comic book written by Yoshi and Greig Tansley.