The last couple of days have been something else. We just don't know what to say about it. Lucky for us, none of you seem to be short of words. Here are just some of the many positive comments Transformers: REANIMATED Issue 1 has been receiving.
Transformers Reanimated #1 is HERE!
Do yourself a favor and check it out! You won't regret it. Art by the one and only @CaseyWColler colors by @tombgrfx
And story by none other than @YousephTanha of the @trnsmissions podcast. https://t.co/bPaoauMn95

— Johnny Utah (@JohnnyUtahBrah) August 7, 2019

? Check this awesome IDW-rejected pitch turned fan fiction comic out!! ?https://t.co/BQU45p0loX

— The Full Force Podcast (@TheFullForce) August 7, 2019
@IDWPublishing You have to make this happen. There is not One person in the #Transformers G1 fandom who wouldn't love this, from the time frame to the story idea. It's a guaranteed winner!

Excellent stuff! https://t.co/Pc80PxzylK

— I Understood That Reference (@capunderstands) August 7, 2019
Fun comic script co-written by Yoshi of @trnsmissions give this a read and do your best to imagine it on an old 80s cathode Ray TV playing out in front of you. Nice work! https://t.co/kv2kzdkpwZ

— ғɪɢᴜʀᴇ ᴋɴɪɢʜᴛs ᴛʜᴇᴀᴛʀᴇ (@FKTpodcast) August 7, 2019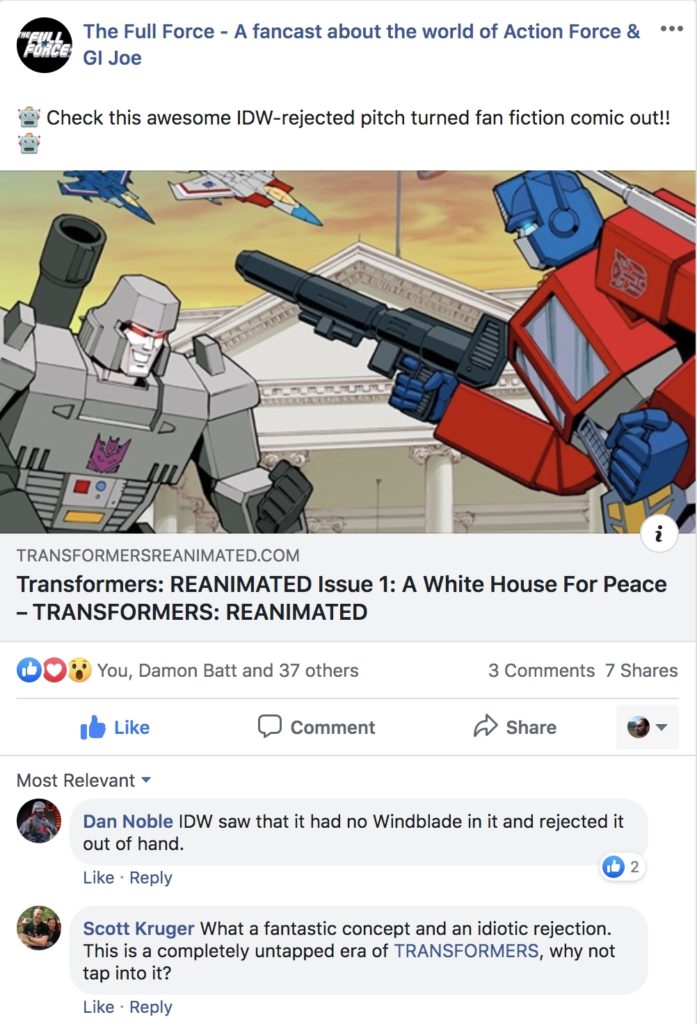 So if you too have something to say about Transformers: REANIMATED, make your feelings known. Hit the Twitter, Facebook, Instagram, whatever… and let others (and IDW) know what you think!