Here it is! (PDF Download)
Audio Version! (MP3 Download Coming Soon!)
YouTube Version (Coming Soon!)
Spook-A-Boo one and all! October has finally arrived! So has the brand new issue 51 of Transformers: REANIMATED: King Of The Ring. This month's cover features kaiju-sized bots magnificently displayed by James Stark and John-Paul Bove, in the form of Grimlock squaring off with none other than Deathsaurus! A monster to be sure. James Stark's detailed and energetic line work is perfectly complimented by John-Paul Bove's dynamic colouring. Our breath was taken away when Greig and I first saw this cover. A huge thanks go out to the two incredible artists who put this cover together for this month's issue.
So pick up your Pumpkin Spice Latte and help yourself to this action-packed story by downloading it for free.
After their recent encounter with both GI Joe and Cobra, Optimus Prime realizes his troops could benefit from a new tactical training approach. First up: the Dinobots and a return to Dinobot Island! But when Grimlock discovers a strange energy portal, the Dinobot leader and the overconfident daredevil, Powerglide are unexpectedly transported to another world; a gladiatorial planet controlled by bloodthirsty tyrants and their fighting champion: Deathsaurus. Does Grimlock have the strength and skill to defeat the ancient, all-powerful Decepticon? Or will Deathsaurus take the Dinobot back to school? To find out, you'll have to download this month's free issue.
This adventure is a stand-alone story that fits into our overall plans to fill the gap left between Transformers season 2 and the '86 animated movie.
James Stark took up penciling duties for this cover after I first met him at Artist Alley during Emerald City Comic Con 2022. I was so impressed with the work he was sharing at the convention that I knew Greig and I had to get him on a Transformers: REANIMATED cover. It was in February 2023 that we were ready to come up with ideas and assign the cover for today's issue, but our focus was always to have both Grimlock and Deathsaurus on the cover. It was just a matter of finding the right idea and/or inspiration.
Enter: Godzilla.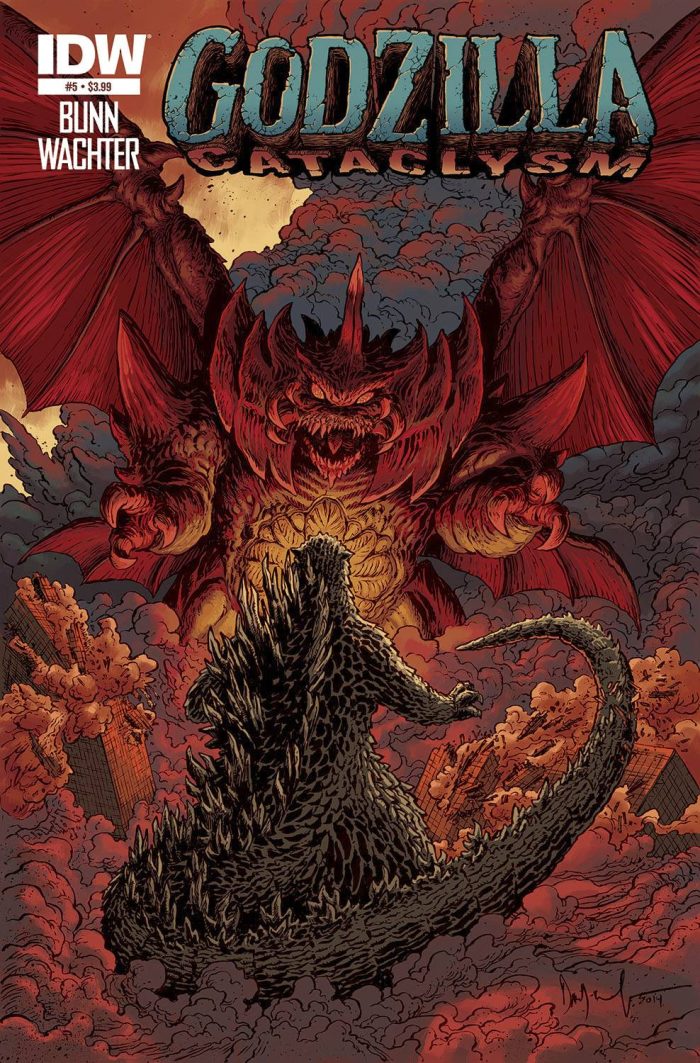 Greig and I spent hours looking for the right stimulus, but when we found Dave Wachter's cover for Godzilla: CATACLYSM #5, we knew we'd found what we'd been looking for with Grimlock in place of Godzilla looking like the outmatched hero against the towering monster, Deathsaurus.
With this homage in our heads, I took the idea to James at Emerald City Comic Con 2023 last March. He was so excited to work on this cover that he asked if he could also draw his favorite Transformer in the upper left corner box. Of course, we said yes.
James Stark is a professional comic illustrator with over 8 years of industry experience. He has published work with Marvel and Upper Deck. Currently, James is doing inking duties on Masters of the Universe: Forge of Destiney published by Darkhorse.
Colourist John-Paul Bove, has worked on a number of IDW Transformers titles such as Transformers: ReGeneration One and Transformers: '84.
Written by Greig Tansley from the Unfunny Nerd Tangent podcast and Youseph (Yoshi) Tanha from the YoshiCast, this G1 adventure follows in the Transformers: ReAnimated tradition of bridging the gap between the cartoon's second season and the 1986 Movie that defined the childhood of millions.
So, if you *did* like issue 51: King of the Ring, then please consider contacting SKYBOUND Entertainment (Via E-mail or Twitter) and let them know you would have liked to see Transformers: REANIMATED as an ongoing comic book series written by Yoshi and Greig.
'Till All Are One!